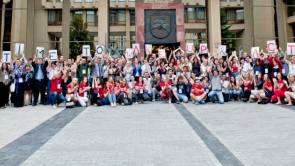 Attending the Transparency School in 2013 shone a completely new light on my understanding of corruption. My experiences at the school opened my eyes to the sheer scale and range of corruption that is prevalent in today's world, and confirmed my feeling that the fight against corruption is one that I believe in passionately – to the extent that I was determined to actually start fighting corruption myself.
There are many paths that someone wanting to fight against corruption can choose, but I was instantly drawn towards the work of Transparency International. The TI-Lithuania team and the excellent Summer School that they provided inspired me to join in the fight against corruption amongst the ranks of the largest international anti-corruption organisation in the world.
This led to periods doing research for TI's UK chapter, as well as a stint as an intern in the European and Central Asia Department of TI's Secretariat, based in Berlin. Both experiences confirmed my belief that what I want to do is put all I can into fighting against corruption, and every day was a day spent learning and improving myself.
When the opportunity to volunteer to be a Coordinator at the 2014 Transparency School came up, I couldn't have been more excited. The opportunity to meet yet more fantastic young leaders in a field that I am so passionate about was too good to pass up, and with each passing year the network of people around the world who are becoming involved in anti-corruption continues to grow. This can only be a good thing, and certainly makes me believe that the future is bright for anti-corruption.
Getting so involved with a cause that I feel so strongly about has so far been a magnificent experience, and I certainly feel that my work in the fight against corruption has barely begun.
Ben Wheatland attended TI School on Integrity  in 2013 and volunteered in 2014.