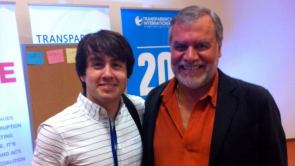 In Paraguay, the great majority of schools don't have any form of student government and students often lack critical skills and knowledge to fight corruption. At the same time FONACIDE, the National Fund for Public Investment and Development which disburses money to schools, lacks appropriate control mechanisms – a weakness that current members of congress have recognized. Lack of accountability is worsened by limited access to public information and isolation of relevant stakeholders. There is no grassroots promotion of social accountability and monitoring of public funds.
Reacción Juvenil de Cambio believes that student government can be mobilised as an important means to reduce apathy towards corruption. ParaguaYOite – the name is a mix of Spanish and Guaraní which means "Truly Paraguayan" – is a project to encourage students to monitor FONACIDE funds going to their own schools and in doing so increase their understanding of anti-corruption issues. Our organisation would work in four high schools in the city of Ciudad del Este to address these problems holistically.
Activities
ParaguaYOite has three aspects:
To redefine the Paraguayan identity so that corruption in Paraguay is not thought of as normal. We will inspire students with real stories of exemplary Paraguayans who have stood up to corruption.
To empower youth in schools with anti-corruption training focused on the importance of student councils. We will run training workshops focusing on how to create and manage student councils, while also building students' skills on project management, the use of ICTs, and legal advice to fight corruption. We would also provide an anticorruption toolkit we have developed in cooperation with the World Bank Institute and the British Council)
To create a student-led system to monitor the flow of money from the recently created FONACIDE (National Fund for Public Investment and Development) to their schools. Students will get hand-on experience on petitioning for public information regarding FONACIDE, be able to monitor the use of their schools' allocated funds, and report any potential irregularities to the appropriate institutions.
In sum, corruption will be tackled and discussed from the cultural, technical, and practical angle by students, with the aim of promoting transparency and integrity.All of this would be done through their Student Council in cooperation with organizations from the civil society and the government.
Game Changing Factor
Our project attempts to change the inherited culture of corruption in Paraguay by redefining the true meaning of the Paraguayan identity free from corruption. The project does this through a practical approach focused on skill-building and anti-corruption training for the education sector. At the end, the beneficiaries become role-models by applying their acquired knowledge in the monitoring of FONACIDE.
This project is something unprecedented in Paraguay. We would be developing a project that could serve as a case study for civil society and the government in figuring out appropriate control mechanisms for FONACIDE or any similar funds. We hope that what we learn will provide valuable blueprint of how to set-up a participatory control mechanism that trains beneficiaries in order to include and engage them in social accountability at the grassroots level.
Why I fight Corruption
It started in 2008. My team and I had won the elections for the Student Council of my high school. I was 17 years old and as President I had the challenge of leading a student body of about 4,000 students. My team's priority was to achieve the independence of our school from political party influence. We investigated and found that the majority of the members of our school's Board of Directors were closely linked to different factions of the same political party, many of them with corrupt backgrounds. We presented such evidence to the Ministry of Education, which not only ignored it, but appointed a new Principal without following due procedure.
As a reaction we mobilized around 3,000 students. Our struggle eventually reached the Minister of Education, who ordered a general audit. Though the audit only took place 3 years later, justice was eventually done.
I will never forget the police coming after me; appearing on the front page of local newspapers with the title of "vandal"; the threats demanding me to stop; my student peers in the streets and the chants for justice. It was that month-long struggle of students united against corruption that made me the activist I am today.
David Garcia attended Transparency International Integrity School in 2013.