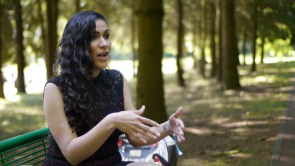 Last week many of us experienced strong emotions in a very short space of time in Vilnius, Lithuania. A group of people from different countries and backgrounds joined the Transparency International School on Integrity with a common commitment to make a change in society by combating corruption.
I would like to share my own experience: I travelled from Mexico City to Lithuania this summer with the purpose of learning about the tools needed to fight corruption. It's a long way to go and there is a lot of literature about corruption, so why not just buy a book? There's a good answer and many good reasons to attend the School on Integrity.
At the school I learned  not only about the macro foundation tools to fight corruption like the United Nations Convention against Corruption, the Anti-Corruption Plain Language Guide, but also the different elements to measure  it such as the Corruption Perception Index, the Global Corruption Barometer and the Bribe Payers Index. I reviewed how anti-corruption is tackled in the private and public sectors and in other regions of the world. Furthermore, I studied the micro elements to combat corruption and gained knowledge to develop new and creative tools to promote the change that will bring positive effects to society, like becoming a social entrepreneur.
Anybody can be a social entrepreneur and make his/her voice heard through social sanctions, advocacy, non-violent activities and grassroots initiatives carried out by citizens to change society's behavior and end  corruption.  I met people with a strong sense of responsibility and generosity who want to make this world better; people who grasp the importance of transnational cooperation in order to deal with the challenges posed by corruption. I also learned the valuable trait of humility and enjoyed the opportunity to learn from high-level speakers who are the best qualified in their subject.
During my time at the school I had the opportunity to network with other students and speakers who were very willing to help in our projects and share ideas. I gained leadership skills like motivation, empathy, collaboration, creativity and the ability to inspire – these cannot be learned through books. I understood that when you volunteer and try to be a change-maker, you are making a statement about the kind of community you want to live in.
Veronica Portugal Chavez attended Transparency International Integrity School in 2014.