participants Please find below our answers to some of the frequently asked questions.
In case you have any further questions, please feel free to contact us by email: admissions[at]transparencyschool.org or by phone:  +370 5 212 69 51.
Question (Q): Where will Transparency School 2020 take place?
Answer (A): The team members of Transparency School were closely monitoring the situation and recommendations regarding the risk and spread of COVID-19. The safety of our community is the main priority for us, thus after many considerations, our team has decided to organize this year's School in an all-empowering format and to host it ONLINE on 17-22 August 2020.
Question (Q): Where do our participants come from?
Answer (A): Since 2010, we have welcomed more than 1200 participants from more than 120 countries worldwide. In August 2020, we will welcome some 130 future leaders from more than 60 countries.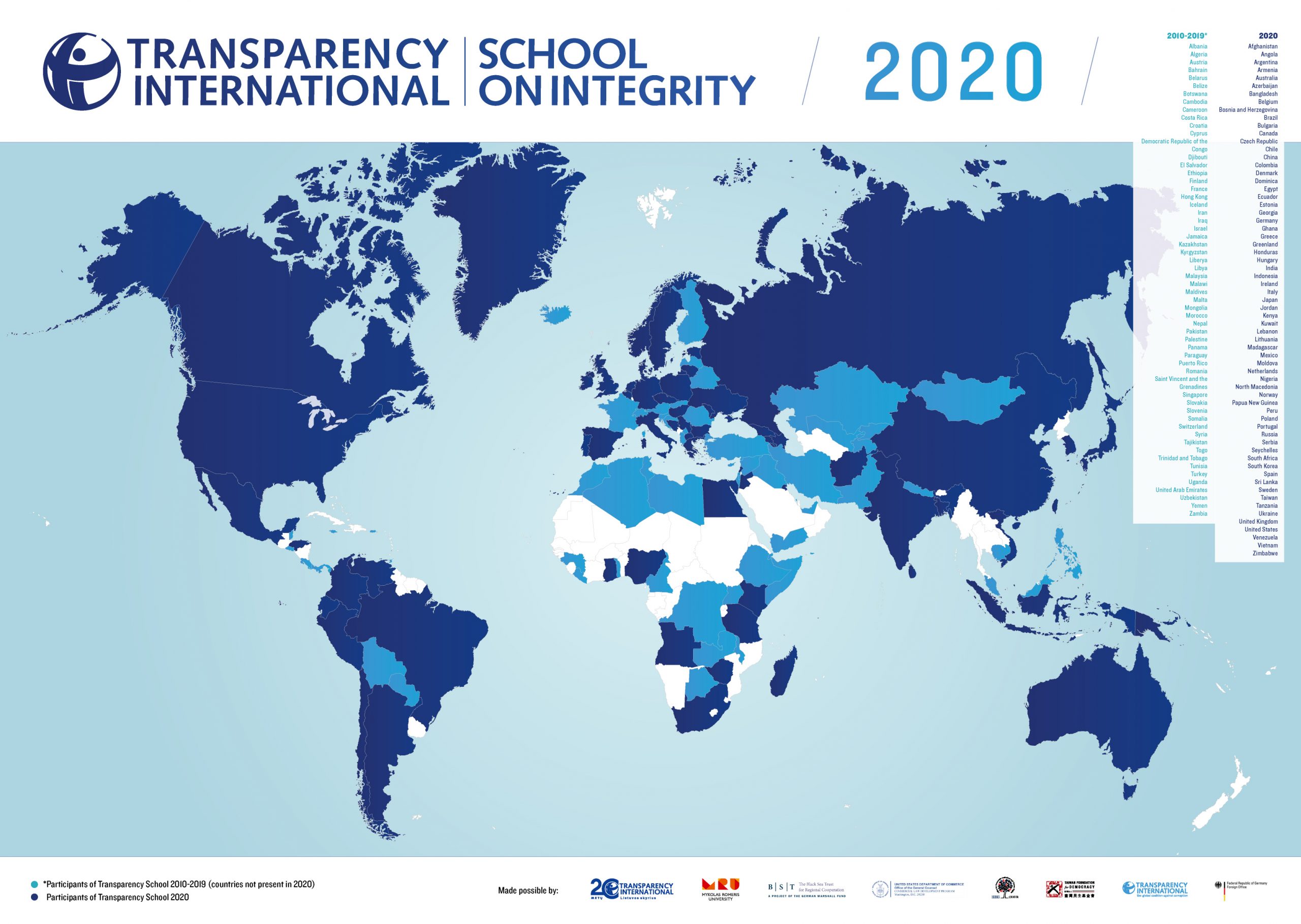 Q: What kind of background do I need to have?
A: We welcome students, graduates and young professionals from various sectors and do not discriminate youth on any basis. In the picture below you can see some details about the participants of Transparency School 2020. More information about previous editions: 2019 | 2018 | 2017 | 2016 | 2015 | 2014.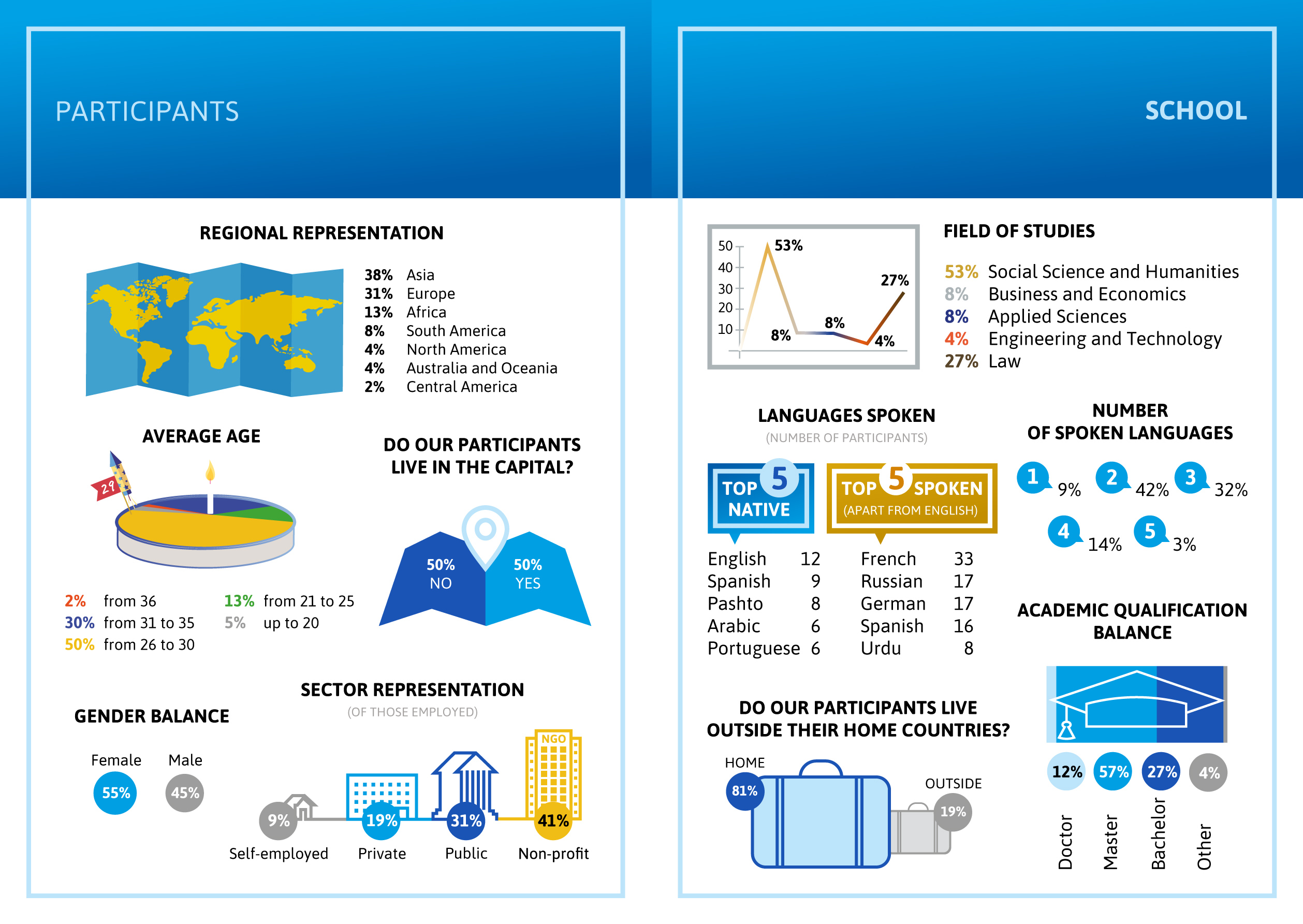 Q: Will you provide any assistance with the visa application?
A: We will assist participants in obtaining their visas. For more information on visas, please visit the website of the Ministry of Foreign Affairs of Lithuania.
Participants are expected to cover their own visa and insurance costs, unless they are granted a full scholarship.
Q: Are there any practical resources I could use?
A: Please find below the transparency and accountability resources tailored to meet your needs: Anticorruption Toolkits

Get busy preventing corruption in your community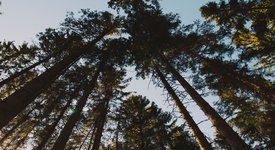 Research

See what the latest Transparency International research has to say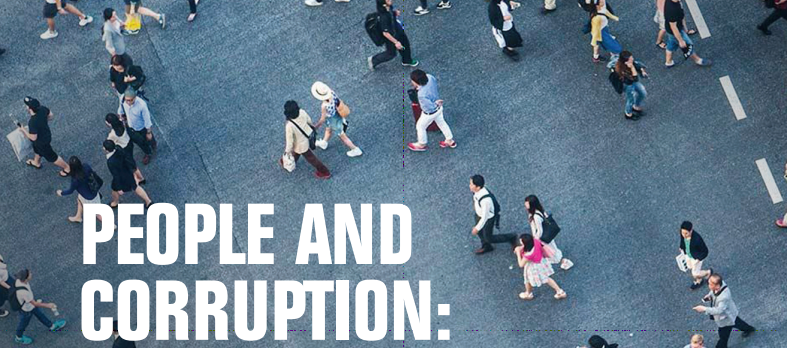 Publications

Connect the dots with the insights on integrity and anticorruption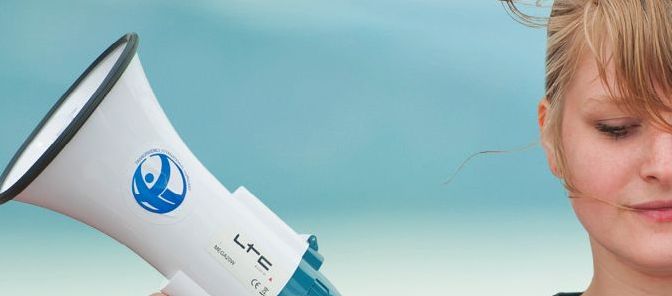 Spread the Word

Tell everyone integrity works!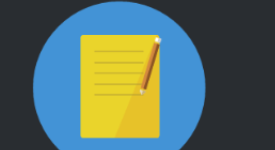 What is Corruption?

How do you define corruption?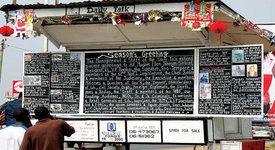 Ambient Accountability

Taking accountability to the next level