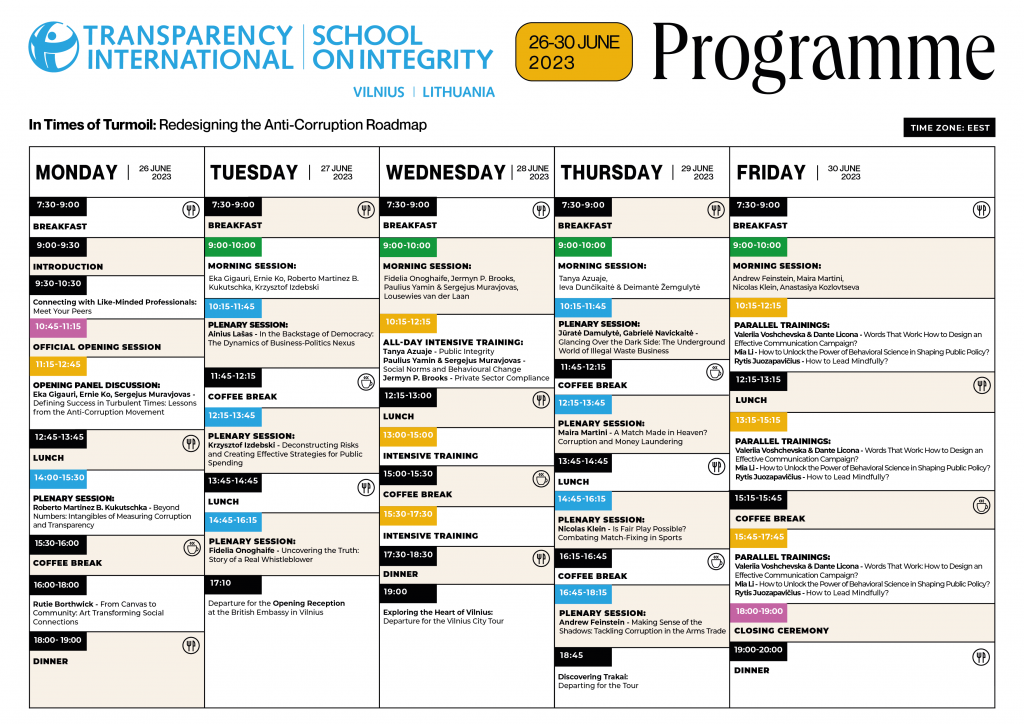 About the programme
The School curriculum is presented through a variety of learning modules such as lectures, seminars, trainings, discussions, field trips, film screenings and social events. The virtual Transparency School will include regular opportunities for engagement and peer-to-peer learning.
The programme follows a deliberate schedule which, as the week goes by, gradually moves away from introductory topics and toward seminars and training aimed to address particular subjects and lets participants acquire new skills. In short, the aim of the programme is to leave participants inspired and empowered by creating opportunities to learn in small groups as well as through mentoring hours.
The School features three teaching modules that cover the public sector, the private sector and civic empowerment tools. Each module deals both with theory and practice and includes:
Public sector – grand and small corruption, measuring corruption, state capture, political party financing, public procurement, etc.;
Private sector – international anti-corruption mechanisms, corporate reporting standards and corruption in different industry sectors, such as the media or sports, etc.;
The civic empowerment module addresses the role of citizens in monitoring the activities of the state and explores ways in which people can become involved in the public decision-making process, in reporting corruption and in anti-corruption activities.
Please find more information on the previous editions of the Transparency School here: 2022 | 2021| 2020 | 2019 | 2018 | 2017 | 2016 | 2015 | 2014 | 2013 and the course material below.
---
READING MATERIAL
Preparatory reading material selected by the lecturers will be shared with the successful candidates of the Transparency School 2023.
In the meantime, please find below a list of core reading material.
1. United Nations Convention against Corruption
The Convention introduces a comprehensive set of standards, measures and rules that all countries can apply in order to strengthen their legal and regulatory regimes to fight corruption. It calls for preventative measures and the criminalization of the most prevalent forms of corruption in both public and private sectors, and requires Members States to return assets obtained through corruption to the country from which they were stolen.
You are further encouraged to take the initiative and familiarize yourself with the history and implementation of the Convention around the world: http://www.unodc.org/unodc/en/treaties/CAC/
2. The Anti-Corruption Plain Language Guide by Transparency International
The Anti-Corruption Plain Language Guide, developed by Transparency International, offers a set of standardised, easy-to-understand definitions, providing readers with concrete examples in practice of how TI approaches these issues. It aims to provide clarity on the terms that the anti-corruption movement uses most in its daily work as well as those associated with new and emerging issues. Relevant links are also provided for further backrgound information and research.

3. Corruption Perception Index
The Corruption Perceptions Index ranks countries and territories based on how corrupt their public sector is perceived to be. A country or territory's score indicates the perceived level of public sector corruption on a scale of 0 – 100, where 0 means that a country is perceived as highly corrupt and 100 means it is perceived as very clean. A country's rank indicates its position relative to the other countries and territories included in the index. This year's index includes 177 countries and territories.
4. The Global Corruption Barometer
The Transparency International Global Corruption Barometer is the largest cross-country survey collecting the views on and experiences of corruption of the general public. Since its debut in 2003, the Global Corruption Barometer has surveyed the experiences of everyday people confronting corruption around the world. The Barometer explores the general public's views about corruption levels in their country as well as their government's efforts to fight corruption.
5. Bribe Payers' Index
The Bribe Payers Index is a unique tool capturing the supply side of international bribery, specifically focusing on bribes paid by the private sector. It asks senior business executives in a number of countries around the world for their perceptions of the likelihood of companies, from countries they have business dealings with, to engage in bribery when doing business in the executive's country.
Data for the Index is drawn from the Bribe Payers Survey – a country's score is an average of the scores given by all the respondents who rated rated the country, resting on a 0-10 scale. A score of 0 corresponds with the perception that companies of that particular country always pay bribes when doing business abroad; a score of 10 indicates a perception that they never pay bribes in their ventures abroad.
6. Various global corruption reports: from education and access to information to private sector and political corruption
The Global Corruption Report (GCR) is one of Transparency International's flagship publications, bringing the expertise of the anti-corruption movement to bear on a specific corruption issue. The report highlights cutting edge qualitative and quantitative research, gathers knowledge on lessons learned and showcases innovative tools. In doing so, it enhances our understanding of the dynamics of corruption and seeks to provide practical and proven solutions to improve governance and accountability.

7. OECD Convention on Combating Bribery of Foreign Public Officials in International Business Transactions: The OECD Anti-Bribery Convention establishes legally binding standards to criminalise bribery of foreign public officials in international business transactions and provides for a host of related measures that make this effective. It is the first and only international anti-corruption instrument focused on the 'supply side' of the bribery transaction. The 34 OECD member countries and six non-member countries – Argentina, Brazil, Bulgaria, Colombia, Russia, and South Africa – have adopted this Convention.

8. UN Global Compact's ten principles
The UN Global Compact asks companies to embrace, support and enact, within their sphere of influence, a set of core values in the areas of human rights, labour standards, the environment and anti-corruption. Its ten principles in these areas enjoy universal consensus and are derived from major international treaties and agreements.
The 10th Principle states that businesses should work against corruption in all its forms, including extortion and bribery. You are encouraged to read further about it at
http://www.unglobalcompact.org/AboutTheGC/TheTenPrinciples/anti-corruption.html
9. Civil Law Convention on Corruption
The Civil Law Convention on Corruption, adopted by the Council of Europe on 4 November 1999, requires Member States to take measures at national level to provide for effective remedies for persons who have suffered damage as a result of acts of corruption, to enable them to defend their rights and interests, including the possibility of obtaining compensation for damage. The Convention contains provisions for international co-operation and monitoring action to ensure the aims above are met.

You are strongly encouraged to read the explanatory report to the Convention at http://conventions.coe.int/Treaty/en/Reports/Html/174.htm
10. Criminal Law Convention on Corruption
The Criminal Law Convention on Corruption, adopted by the Council of Europe on 27 January 1999, requires Member States to take measures at the national level to criminalize and punish the conduct of bribery, trading in influence, money laundering (of proceeds from corruption offences) and all related account offences. Due to the nature of the Convention, it contains further provisions for international co-operation and compliance to ensure effective enforcement across borders. It is notable that the Convention contains provisions for holding legal persons accountable in certain cases for the criminal offences listed above committed by natural persons occupying leading positions in those legal entities.
The Convention also requires Member States to enact provisions for the protection of witnesses to these acts and collaborators of justice (known colloquially as "whistleblowers").
You are strongly encouraged to read the explanatory report to the Convention at http://conventions.coe.int/Treaty/en/Reports/Html/191.htm
We also strongly recommend you to visit:
http://transparency.org/
http://corruptionresearchnetwork.org/
http://www.u4.no/